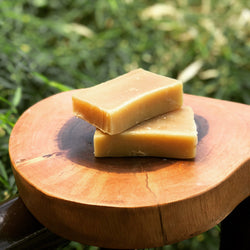 100% Unscented Castile Soap
For a soap that gently cleanses and replenishes the skin barrier, try our 100% Unscented Castile Soap. It is made with the nurturing goodness of 100% extra virgin olive oil and is void of any chemicals or harmful ingredients that come with commercial brands.
To prevent irritation, we used the most premium ingredients in making the soap. Extra Virgin Olive Oil is full of fatty acids and vitamins that help the skin retain moisture and heal from inflammation and wounding. As a soap, each use massages these nutrients into the skin, keeping it plump and healthy.
Safe for baby's delicate skin and mom's sensitive face, our 100% Unscented Castile Soap is a nurturing force that will help you through the highs and lows of motherhood. 

Caution: Not recommended for dry or irritated skin.
Source

Lin, T. K., Zhong, L., & Santiago, J. L. (2017). Anti-Inflammatory and Skin Barrier Repair Effects of Topical Application of Some Plant Oils. International journal of molecular sciences, 19(1), 70. https://doi.org/10.3390/ijms19010070
Ingredients
100% unscented saponified premium food-grade Extra Virgin Olive Oil