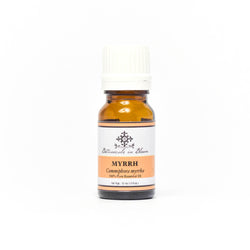 Myrrh Essential Oil
The myrrh tree is part of the incense tree family (also known as  Burseraceae). As such, it is often small and thorny in appearance. The name "myrrh" is often used to refer to both the tree and the resin it produces.
Myrrh's herbal scent can be hit-or-miss, but its benefits are the real deal. This Biblical resin is said to contain antioxidant and pain-relieving properties. Regardless, it's perfect for oilers who enjoy incense-like scents.
Properties  
Antimicrobial, astringent, expectorant, antifungal, stimulant, carminative, stomachic, anti-catarrhal, diaphoretic, vulnerary, antiseptic, immune booster, circulatory, tonic, anti-inflammatory, antispasmodic

Benefits

Curbs microbial growth

Tightens gums and muscles

Reduces hemorrhage

Helps alleviate coughs and colds

Stops fungal growth

Stimulates discharge and bodily systems

Reduces excess gas

Good for stomach health

Gives relief from phlegm

Promotes sweating

Helps heal wounds quickly

Protects wounds from infection

Boosts protection against disease

Improves circulation

Prevents rheumatism and arthritis

Boosts health and immunity

Sedates inflammation

Reduces spasms
Blends Well With 
Frankincense, bergamot, cinnamon, rosemary, and sweet orange.

Ingredients
BiB 100% Pure Essential Oil of Myrrh
What You Need To Know  
Botanical Name: Commiphora myrrha 
Country of Origin: France
Bottle Size: 10mL