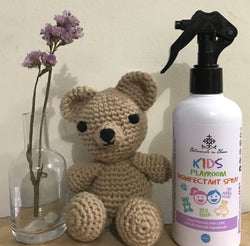 Kids Playroom Disinfectant Spray
Enclosed spaces often house a range of microbes, especially those that house *close personal contact. And this can be concerning when they are places your child frequently visits. In daycare centers, **studies found coliform bacteria in the kitchen and toilet areas, while nasopharyngeal bacteria lived on playroom surfaces, especially toys. 
In your little one's life, we believe there's no room more important than their playroom. Our Kids Playroom Disinfectant Spray is then specially formulated to disinfect their toys thoroughly, minus the harmful chemicals. Each 100mL spray bottle contains food grade Grain Alcohol and a host of protective essential oils which infiltrate any microbial defenses, keeping your kid's playroom a childhood haven.
To use, spritz a bit of our Kids Playroom Disinfectant Spray onto their toys or any surfaces and wipe afterward.
Source
*Barker, J., Stevens, D.. and Bloomfield, S.. (2001), Spread and prevention of some common viral infections in community facilities and domestic homes. Journal of Applied Microbiology, 91: 7-21. 

https://doi.org/10.1046/j.1365-2672.2001.01364.x

**Ibfelt, T., Engelund, E. H., Permin, A., Madsen, J. S., Schultz, A. C., & Andersen, L. P. (2015). Presence of Pathogenic Bacteria and Viruses in the Daycare Environment. 

Journal of environmental health

, 

78

(3), 24–29.
Ingredients  
Food grade grain alcohol, Distilled Water, and a special kid-friendly blend of essential oils 
What You Need To Know  
Bottle Size: 100mL
Bottle Type: Spray bottle
Caution: When disinfecting toys, take note of toy care instructions.