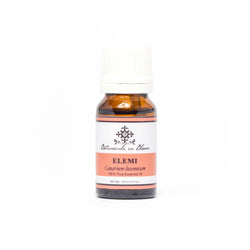 Elemi Essential Oil
Our Elemi Essential Oil is taken from elemi resin; one of the more sustainable methods of oil extraction. Also known as pili, elemi (Canarium luzonicum) is said to have both a peppery and lemony aroma. It's also often used to make other scents last longer, making it highly-prized for perfume makers. 
Elemi is said to have anti-inflammatory and stimulating compounds, making it perfect for active oilers on-the-go. Mix it in with some of your favorite essential oils for a long-lasting blend, or dab some onto your temples for a quick dose of zen.
Properties
Antiseptic, analgesic, expectorant, stimulant, tonic

Benefits

Helps protect against sepsis
Relieves pain
Expels phlegm and catarrh
Helps increases muscle tone and body health
Blends Well With
Bergamot, grapefruit, frankincense, and lavender.

Ingredients
BiB 100% Pure Essential Oil of Elemi
What You Need To Know  
Botanical Name: Canarium luzonicum 
Country of Origin: Philippines
Bottle Size: 10mL