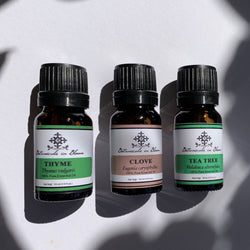 Botanical Protection Kit
Keep yourself safe the natural way with our Botanicals Protection Kit! Each essential oil in the kit is specially chosen for its powerful antibacterial, antiviral, and antifungal properties. They're also safe for children and all members of the family. Get yours now to save up to ₱252! 
Includes 

10mL Clove Essential Oil –  Eugenia caryophyllata. The soft, peppery scent of clove helps stimulate the immune system.
10mL Tea Tree Essential Oil –  Melaleuca alternifolia. The properties of tea tree may help protect against tropical infections and disease.
10mL Thyme Essential Oil –  Thymus vulgaris. This aromatic has antibacterial properties that can treat acne and common ills, like cough and cold.
What You Need To Know 
Caution: Do not ingest.